Village Hall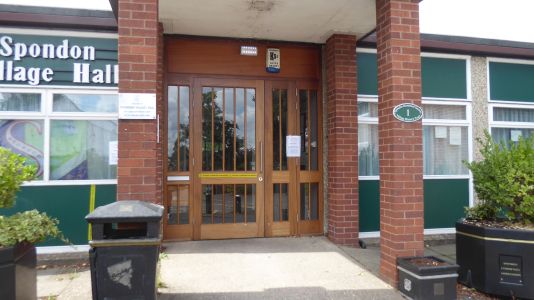 Spondon Village Hall is now open
The Village Hall is operated by Spondon Community Association and is available for hire by individuals or organisations, whether locally-based or not. Regular bookings are available. Discounts are given to members of the Community Association, as indicated.
For general information please e-mail us, for booking please use the online enquiry form, which is sent direct to the Hall Manager (note that the "Contact us" link at the top of the page is for general queries about the Spondon Online website).
At the moment, we have a few regular booking slots available.
Please also note that whole of the Hall is now non-smoking at all times.
The Village Hall is located on Sitwell Street, alongside Spondon library, as shown on this map.
Hall Facilities
There are two main rooms in the Village Hall.
The main hall (70'x40') pictured right is air-conditioned and can be used for up to 180 people. A public address system (including radio microphones) is available - please contact the Hall Manager for further details.
Kitchen facilities are available for hirers (pictured below)
The smaller conference room (25'x14'), pictured lower right, can be used independently for up to 20 people.
(Note that fire regulations restrict the TOTAL number of people in the hall to 180.)
The current list of regular users can be found on the Events page.
Bar
A staffed and well stocked bar is available, serving bottled beers and lagers, wine, spirits and soft drinks at reasonable prices.
Access
The Village Hall is on a single level and ramped access is available. There is also a fully accessible disabled toilet and baby-changing facilities
There are two disabled parking spaces outside the main entrance.
Hearing Loop
There is a hearing loop fitted in the Village Hall, which will make a big difference to all people with a hearing aid that use the Hall.
If you are making a booking for the Village Hall, please tell the Hall Manager in advance if you would like to use the system.
Rates
Current Hall hire rates are shown below.
Day
Time
Non-members
Main Hall
Conference room
Mondays to Fridays
8 am – 6 pm
£9.00 * per hour
£5.00 * per hour
Saturday and Sunday
8 am – 6 pm
£11.00 * per hour
£5.50 * per hour
Sunday to Friday
6 pm – midnight
£11.05 * per hour
£6.00 * per hour
Saturday
6 pm – midnight
£30.00 * per hour
Block booking £150 (members £120)
Included
Commercial rates will be the appropriate rate plus 25%. Commercial bookings are those using the Village Hall as a place of business for financial gain, as opposed to village organisations or charities hiring on an occasional basis: charities may be asked for the charity registration or a receipt for the profits paid to a charity.
Above: Main Hall Interior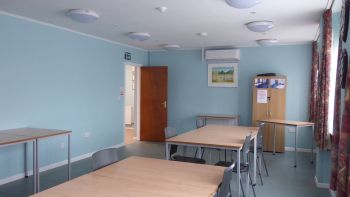 Above: Kitchen facilities and Conference Room interior